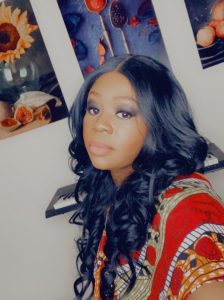 My art is a reflection of my heart. – Toni Payne
Toni Payne is a visual artist whose primary medium is digital photography. She is also a spoken word poet, self expresser, content creator, podcast host of the NFT Talk Show Podcast where she educates about NFTs, public speaker, and founder of the Champayner Social Club. She considers herself versatile in nature.
Besides immersing herself in creating memorable Still Life and Documentary Photography, she is also a storyteller who enjoys capturing the essence of things around her and exploring spirituality and symbolism through her art. She centers her lore around love, life, abundance, culture, and spirituality.
Her Still Life Art explores telling stories by creating compositions using the mundane. One of her creative goals is to have the viewer ask why and then dig further into the lore. One common theme you will find in a lot of her Still Life Artworks is the use of flora. Besides Still Life Art, she also has a passion for Film and Documentary Photography where she documents people, places, and wildlife. She also enjoys traveling to capture these moments.
Photography to her has always been about freezing moments in time. It is that one special art form that captures the essence of a person, place, or thing as it was in that moment. She believes that every photographer is a documentary photographer because they can document moments as they happen.
Being a creative who does not limit herself because she believes your creativity is an extension of who you are, she also enjoys writing short-form stories. She studied Video and Digital Art, graduating with a bachelor's degree in the Arts. She also has a background in Film Production, Public Relations, and Artist Management.
She is passionate about educating people about NFTs as well and helping brands propel themselves and find success in NFTs. Community is important to her. This is why she founded the Champayner Social Club, a social club for art lovers around the world.
Her hobbies include traveling, bird watching, discovering new places and learning about different cultures. She is a self-professed foodie who loves to try new cuisine and of course, document them using beautiful photographic images.